The Quantification Calculator enables a feature unique to the NanoSPECT/CT imaging system: the ability to perform absolute quantification in small-animal SPECT imaging.
Getting There
The QuantiCalc tool is available going to Advanced Modules > NucMed > NanoSPECT.

Function
The Quantification Calculator is used to calculate a Quantification Factor. To perform absolute quantification, Quantification Factors must be calculated for each isotope and aperture combination used in the NanoSPECT/CT. The Quantification Factors are stored in the Quantification Database. For information on collecting the data necessary to calculate Quantification Factors, see the NanoSPECT/CT documentation.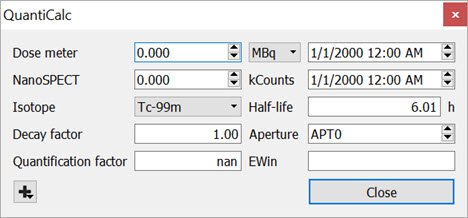 The procedure for collecting Quantification Factor data involves performing a highly-specified SPECT measurement on a syringe filled with isotope. The fields of the QuantiCalc window may then be filled according to:
| | |
| --- | --- |
| Dose Meter | Record the amount of activity in the syringe in MBq,kBq, mCi or uCi as measured by a dose calibrator. Include the time of the measurement. |
| NanoSPECT | Record the activity value measured by the NanoSPECT from reconstructed data. Include the time of data collection. |
| Isotope | Select the isotope present in the syringe. Isotopes offered include Ga-67, I-123, I-125, Lu-177, Tc-99, Tl-201, In-111, and Xe-133. The half-life of the selected isotope will be automatically populated in units of hours. |
| Decay Factor | The information from the Dose Meter, NanoSPECT, and Isotope fields will be used to calculate a decay factor between the time of Dose Meter measurement and data collection. |
| Quantification Factor | The information from the above fields is all combined to determine a Quantification Factor for that particular isotope and aperture. This Quantification Factor can then be entered in the Quantification Database. |
Quantification Database
The Quantification Database stores all of the Quantification Factors calculated for any isotope and aperture combination measured with the NanoSPECT/CT.